Day in the Life is a new series that will take you, our readers, behind the scenes and inside the complex world of The Neuro. You will get to meet some people that care and advocate for patients, those on the frontline of healthcare, and others who dedicate their lives to discovering the causes and finding new treatments for neurological disorders.
By Sophie Lorenzo
April 7, 2021
It's 8:00am and the halls of The Neuro's Clinical Research Unit (CRU) are already busy. Clinical research coordinators are getting ready to meet with physicians before the first patients arrive. They slip on their white lab coat and mask before rushing down the hall, pausing to say hello to the nurses and lab technicians who have arrived to process blood and biological samples for the day's trials.Today, PPMI is entering its most ambitious era yet and growing its cohort from 1,400 participants to 4,000 volunteers across nearly 50 sites in 12 countries. The Clinical Research Unit at The Neuro (Montreal Neurological Institute-Hospital) is the only site in Quebec and one of three sites in Canada taking part in this sizable expansion.For Senior Clinical Research Coordinator Sean Carlin, who manages a large team of coordinators for Multiple Sclerosis (MS) trials, rolling with the punches is part of the job. "No day ever goes entirely as planned and no two days are ever the same," he admits with a laugh.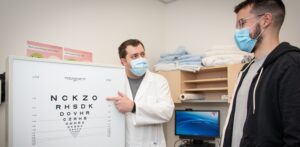 Tucked into two sets of offices on the second floor of The Neuro, the CRU's 25 clinical research coordinators are usually at the heart of the action. Throughout the day, they rush to appointments with study participants, swing back to their desks to answer emails from industry sponsors, update trial information and touch base with the half dozen health professionals who will be assessing patients that day.The coordinator is the go-to person and has an integral role and strong relationships with all the players in terms of clinical trials. We may correspond with pharmaceutical companies as well as with patients when they have questions. In most cases, we are responsible for all aspects of a patient visit — from performing cognitive and physical testing, to accompanying patients to get an MRI, blood draws or an infusion, all while documenting things as we go, explains Sean.Despite the very difficult prognosis that individuals with neurodegenerative conditions face, the mood in the unit is positive and upbeat. The CRU's coordinators and multi-disciplinary health care team may see the same patients for months, sometimes years. They form a close bond and are always happy to catch up.
Groundbreaking Unit
The Neuro is the only institution in Canada, and one of a handful worldwide, that has a clinical research unit located in a neurological hospital. This allows patients to receive specialized care while enrolled in their trial. Patients have access to emerging treatments, but also benefit from the support of a large multi-disciplinary team.Working with physicians from The Neuro, the CRU staff manage over 100 clinical trials a year. These studies test new drugs for individuals living with a variety of neurological disorders such as Amyotrophic Lateral Sclerosis (ALS), Multiple Sclerosis, Parkinson's disease, stroke, brain tumours, autism, migraine and dementia.
"Right now there are new trials coming for brain tumours, ALS and Parkinson's, as well as a couple for neuromuscular diseases, that could be game changing for those patients. Those are really exciting, because it means that we're actively involved in finding treatments for people with rare diseases," explains Dr. Angela Genge, Executive Director of the CRU and the Director of The Neuro's ALS Clinic.
Access to emerging therapies can mean the difference between life and death for people facing degenerative neurological conditions. The individuals taking part are motivated by the hope that a promising new treatment may improve their quality of life or extend their lives. For others who face a difficult prognosis, it's a chance to contribute to medical advances, especially in areas where there are few options for patients.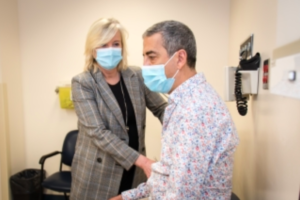 Tucked "Prior to the approval of new drugs several years ago, most people living with ALS almost all died within two to five years, so there have been tremendous advances," explains Dr. Genge. "At the moment, we are seeing a response in one of our trials for people with a rare mutation with ALS. Some people are stabilizing their disease progression, so it's very promising," says Dr. Genge.
Planning from A to Z
There is a lot that goes into setting up a clinical trial before it can start accepting patients, including reviewing the trial protocol, creating a detailed informed consent form and other documents which will be approved by an ethics board at the McGill University Health Centre (of which The Neuro is a part). They will carefully evaluate previous lab findings and any animal and human research to ensure that the risks, as far as we know, are manageable.The CRU is also unique in that it has a team of writers and project managers to help physicians from The Neuro develop their own clinical trial, write the protocol, get funding and approval and put in place everything required. "These investigator-initiated trials take the ideas that are generated in the labs at The Neuro and allow them to be developed at the next phase, testing them in a clinical trial with study participants. This also allows us to share data and biological samples collected during these clinical trials with the C-BIG Repository at The Neuro," explains Dr. Genge. Thanks to The Neuro's Open Science mandate, this valuable data can then be shared with research teams around the world who are working on understanding and treating neurological conditions.There are plans to forge collaborations beyond McGill. "Right now we are working on an initiative called ERADICATE. My vision is that the Neuro's CRU leads a Canadian network of sites that conduct clinical trials in rare disease, and that we become the first stop for investigators, small biotechs and large pharmaceutical companies when they want to develop a new therapy," she explains.Clinical research is what drives the treatments that are ultimately prescribed to help patients slow their disease progression and stabilize their symptoms. For everyone at the CRU, there is tremendous satisfaction in seeing patients live a fuller life. "I can think of one patient with highly active MS in terms of physical symptoms and leg weakness," remembers Sean. "With the help of their physician, we enrolled them into a trial quickly. And now, a few years later there is a marked reduction of symptoms from MS. It's fantastic to see that they have really benefited from the treatment."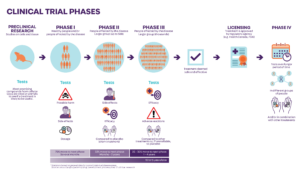 There are multiple stages of clinical trials that a treatment must pass before it is approved to be prescribed safely by all doctors in regular offices, clinics, or hospitals.
To participate in the

PPMI-2

study, click here or email

info-cru.neuro@mcgill.ca