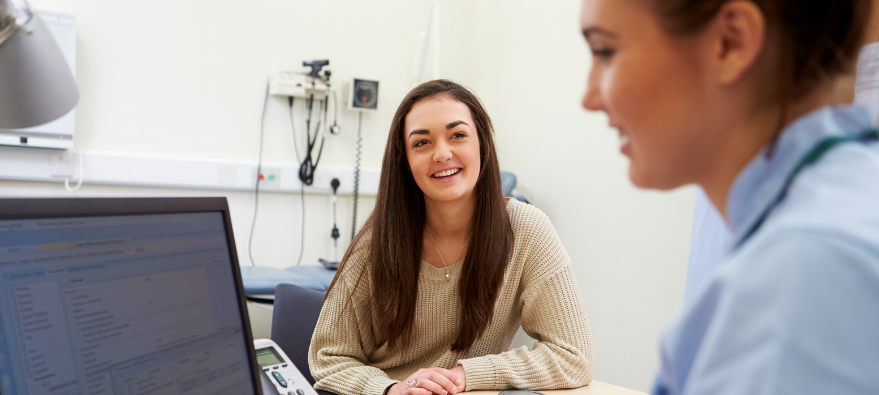 The first ever pediatric trial at The Neuro hopes to broaden the limited options for young people with Multiple Sclerosis
By Sophie Lorenzo
June 7, 2022
We often think that neurodegenerative diseases only affect the elderly, but over a dozen life-altering neurological conditions are diagnosed in childhood. Among them, Multiple Sclerosis (MS) is the most common for those under 18. While many people with MS go on to lead active lives, the diagnosis can greatly impact their plans and lead to doubt and insecurity about their future.
Kayla, a patient at The Neuro (Montreal Neurological Institute-Hospital) was first diagnosed 7 years ago when she was just 18 years old. "I was losing my vision and went in for tests. I was eventually given a diagnosis of MS. It was a shock. And since I didn't see symptoms day to day, I was in denial for quite a while," explains Kayla, who is currently completing a Bachelor's in psychology. "It is only after I had a very difficult relapse this year and an MRI showed new lesions in my brain and spine that I accepted that I really had MS."
MS is a chronic disease in which the immune system attacks the protective covering of the nerves. If the damage is substantial, this covering may be replaced with scar tissue which can lead to ongoing and worsening problems with vision, memory, balance and mobility.
Acting early
Canada has one of the highest rates of MS in the world with an estimated 90,000 Canadians living with the disease. According to the MS Society of Canada, 12 Canadians are diagnosed daily, mostly between the ages of 20 and 49. A 2018 article in BMC Neurology points to an unfortunate trend: the prevalence and incidence of pediatric-onset multiple sclerosis (POMS) are increasing globally.
"Teens who are diagnosed with MS have limited treatment options and few possibilities to take part in a clinical research and access novel therapies," says Dr. Myriam Lévesque-Roy, the principal investigator for the trial at the CRU. Dr. Lévesque-Roy is a neurologist in the MS Team at The Neuro (Montreal Neurological Institute-Hospital) as well as a consulting neurologist at the Montreal Children's Hospital.
Unlike in oncology, where the life sciences sector spent decades expanding available therapies, pediatric treatments for MS are still lagging. There are fewer data on safety and efficacy of therapeutic options in patients under 18 years old, greatly limiting the choice of therapies in this population. And according to ClinicalTrials.gov (a global registry of trials managed by the US National Institutes of Health), there have been no clinical trials for this age group in Canada for the last five years.
That's why there is great excitement about a new pediatric trial developed specifically for people under 18 who have been diagnosed with MS. "The trial will compare the efficacy and safety of three current standard of care treatments for adults to see which is best tolerated and most effective for these younger patients with MS," continues Dr. Lévesque-Roy.
Rare opportunity
Symptoms of MS are episodic. During a relapse, symptoms worsen and are followed by long periods of remission where individuals may fully or partially recover function in an affected area.
"The first time I had a relapse in 2018 was during a stressful period at school. For weeks, I was dizzy, I had headaches and I couldn't stand," says Kayla, whose doctor then suggested she join a clinical trial which would follow her closely while taking an approved medication.
A 2021 article in the journal of Multiple Sclerosis indicated that even in early stages of the disease, there can be a loss of function of anywhere from 8 to 34%. The literature points to the importance of a "time matters" approach for aggressive early detection and treatment to preserve and, where possible, restore physical and cognitive capacity.
Treatment is not always straightforward. "Not every medication will be effective for each patient. It can take several tries to find a treatment that works for adult patients, where at least we have more options in our treatment arsenal. With teens any loss of function will impact them for the rest of their lives so, the more options we can offer them, the better we can manage their disease proactively,'' emphasizes Dr. Lévesque-Roy."MS is something that I have to live with and I do get worried about future; I am not sure how my disease will progress as I get older. I would say that if you get an opportunity to take part in a clinical trial, you should consider it. It is a very positive thing; you are on medication, you are taken care of, you can contact someone 24/7 and there's a great team," suggest Kayla.
For more on ongoing MS trials at the CRU, visit cru.mcgill.ca/ms, or contact ms-cru.neuro@mcgill.ca.
For information on MS Society Peer Support Groups, contact 844-859-6789 or msnavigators@mssociety.ca.
Click here to participate in the

PPMI-2 study.