Collaboration with the Weizmann Institute of Science on a promising direction for ALS treatment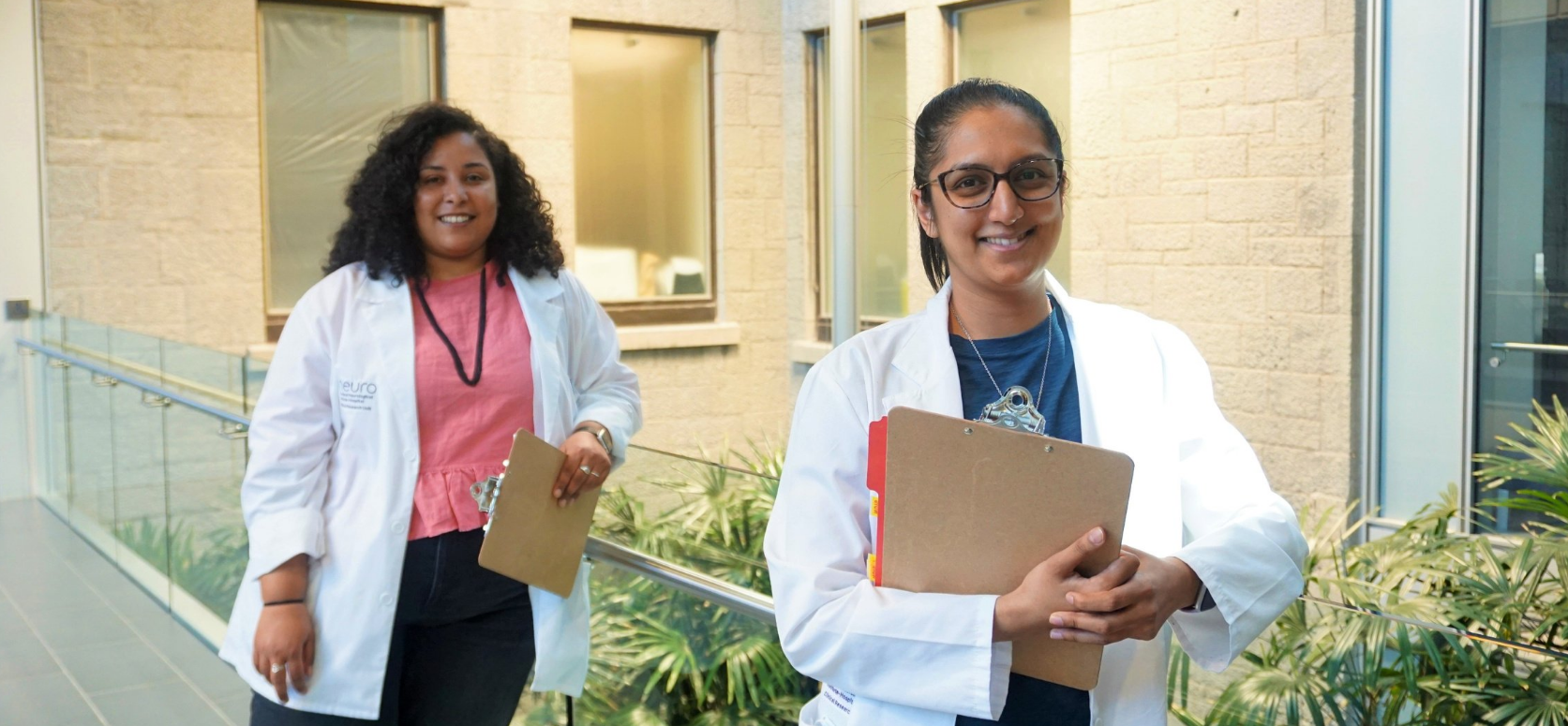 By Sophie Lorenzo
July 16, 2021
An ALS (amyotrophic lateral sclerosis) diagnosis sends shockwaves through an individual's life. The disease can strike at any age, though most commonly between the ages of 55 and 75. The average prognosis is just two to five years from when symptoms first appear. This motor neuron disease gradually paralyzes individuals as their nerve cells deteriorate, eventually affecting their ability to walk, talk, swallow and breathe. In Canada, on average 8 people die of ALS each day.
In the past two decades, treatments to help slow the progression of the disease finally became available but gains in survival rates and slowing the rate of functional decline have been modest. For individuals facing this difficult prognosis, the clock is ticking. It is crucial to push ahead in developing new treatment pathways through testing in clinical trials.
The Clinical Research Unit at The Neuro (CRU), a leading centre in ALS trials, recently partnered with the Weizmann Institute of Science in Israel to spearhead research into a potential new approach to treat ALS.  A clinical trial has recently launched at the CRU that will build on the pre-clinical research conducted in Prof. Eran Hornstein's lab at the Weizmann Institute.
Targeting a key enzyme
People with sporadic or familial ALS have decreased microRNA levels in their motor neurons. A key enzyme called DICER is critical for maintaining microRNA levels.
"DICER is inhibited in many forms of ALS and accordingly we thought that it could be a therapeutic target. If we could find a way to enhance its activity, it could be a way to restore microRNA levels and treat those patients with ALS," explains Prof. Hornstein.
In previous biochemical studies, researchers found that the drug enoxacin was shown to affect DICER activity. Prof. Hornstein and his team hypothesized that it might help to restore DICER activity in ALS.
The Hornstein lab tested enoxacin's effects on DICER in motor neuron cells, and in mice that have been engineered to develop ALS, and the results were promising enough to move to the next phase of testing enoxacin in patients with ALS. "Enoxacin increases DICER enzymatic activity and microRNA production. We saw a positive effect of amelioration of ALS in pre-clinical studies in mice. This was a good sign that this would be a therapeutic candidate in a drug for patients," says Prof. Hornstein.
Early clinical testing
In order to move the investigation of enoxacin into a clinical trial, Prof. Hornstein reached out to Dr. Angela Genge, Director of the Clinical Research Unit as well as the Centre of Excellence for ALS Research at The Neuro. The CRU's Phase 1 unit, the first of its kind for ALS, enabled this exciting study to be held at The Neuro.
"This is an opportunity to see whether we can connect something that was shown to have an effect on the science of ALS, with a potential effect on the patient to see if it has a specific and direct impact on a terrible disease. And we would be doing this with an already developed drug that could give us a new path to treat these patients," explains Dr. Genge. Drs Genge and Hornstein initiated the REALS-1 trial, which is a Phase Ib/IIa trial that will examine the safety, tolerability and target engagement of the drug in individuals with ALS.
"We will be looking at evidence that the enoxacin gets into the brain and spinal cord and can have an effect there. And we will be examining biomarkers as well," says Prof. Hornstein. The evaluation of biomarkers and target engagement in this study meets an important need in ALS clinical research and demonstrates a high level of rigour even at this early stage.
Network benefits
Before the trial could get underway, there was a roadblock: enoxacin was not readily accessible. Weizmann Canada, a local organization that supports the Weizmann Institute of Science in Israel, stepped in with a contact who proved pivotal to moving forward: Canadian pharmaceutical company Apotex, which produced the enoxacin and placebo tablets for the trial. "The Weizmann Institute network allowed us to establish trust and communication. It says a lot about the ability to push forward science and biomedical research through collaboration" says Prof. Hornstein.
The co-investigators are cautiously optimistic at this very early stage of clinical research. The new trial could be the first step in an innovative pathway for the treatment of ALS. "I am anxious to see if enoxacin progresses to further trial phases and if shown to be effective, this would open up a whole new avenue for using previously existing drugs in developing treatments for ALS, which would greatly speed up getting treatments to the people who need them" concludes Dr. Genge.
The trial team thanks CIHR, FRQS and the Israel Ministry of Health (within the ERARE-3 competitive grant framework), as well as Brain Canada, ALS Canada and Muscular Dystrophy Canada for their generous funding support.
To learn about the REALS-1 trial or to participate, visit the Clinical Research Unit at The Neuro: cru.mcgill.ca/als.