The CRU is leading the push to find treatments for rare neurological disorders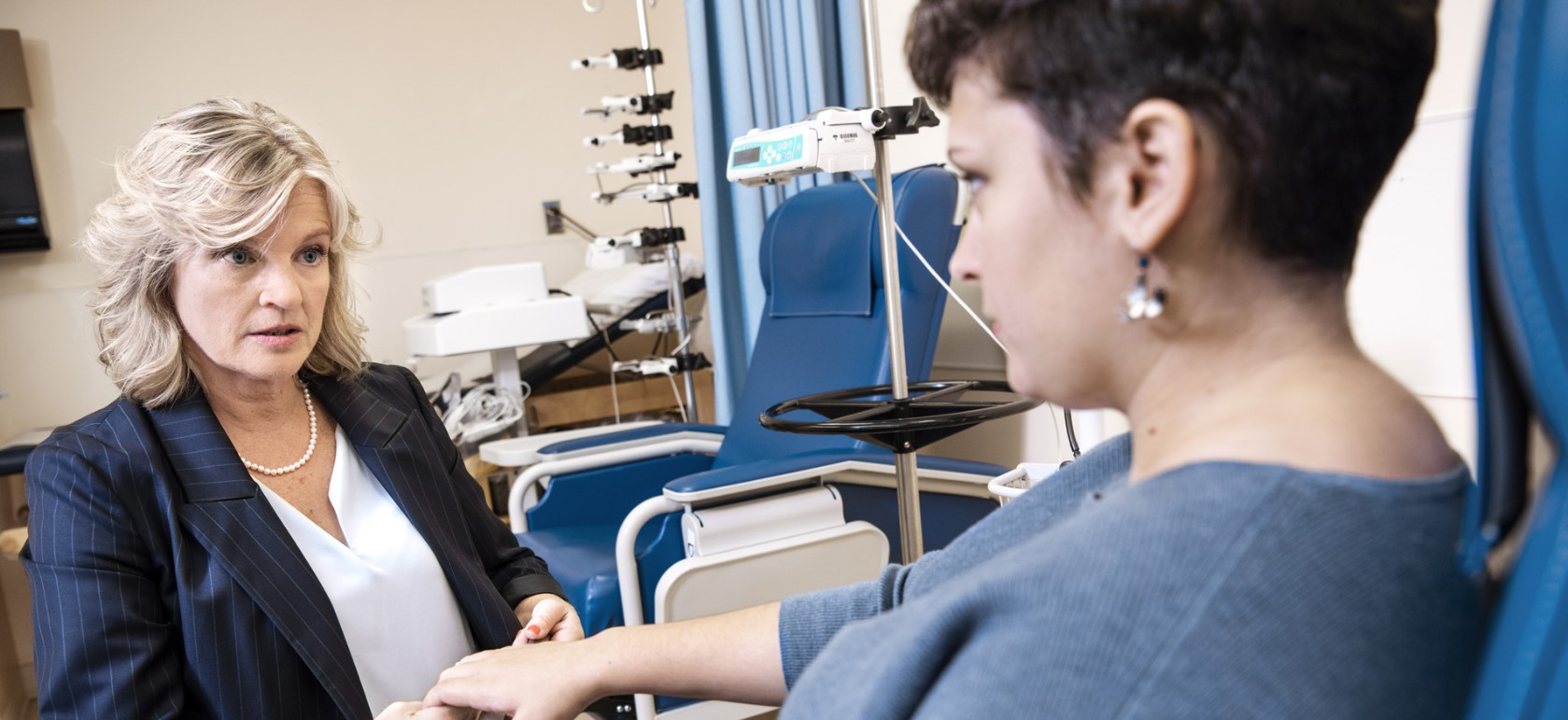 By Sophie Lorenzo and Shawn Hayward
February 26, 2021
Cindy Rhicard was in her late 30s with two young children when she was diagnosed with facioscapulohumeral muscular dystrophy (FSHD), a progressive disorder characterized by muscle weakness and atrophy.
"It had progressed, because it took 4 years to get a diagnosis," explains Cindy who works as a school secretary. "During my first appointment with Dr. Genge, she walked in and asked me to whistle and smile for her. She suggested a DNA test but said: 'It looks like you have FSHD.' I burst into tears. Finally, somebody believed me. I had an answer," explains Cindy.
FSHD is one of the 6000 rare diseases that together affect 300 million people worldwide. Unfortunately, many have relatively common symptoms that can lead to misdiagnosis and delay treatment. Rare Disease Day, held this year on February 28, hopes to shed light on these conditions.
In Canada, one in 12 people is living with a rare disease, a third of which are neurological conditions, including Amyotrophic Lateral Sclerosis (ALS), rare neuro-genetic conditions, many of which are more common in Canada than elsewhere in the world, and numerous neuromuscular diseases.
New Trials, New Treatments
Treatments that could help slow the progression of these disorders are few and far between; health care teams focus on managing symptoms, such as pain, that affect day-to-day life. "People don't realize how hard it is. I would just like to be able to go for a walk with my husband. That's why I participated in a clinical trial, to give hope: to others who are affected but also to myself — hope that things can get better," explains Cindy.
For Dr. Angela Genge, a neurologist and the executive director of The Neuro's Clinical Research Unit (CRU), the biggest issue is that the technology in drug development has not caught up with rare disease. "We are finally seeing an explosion of biotech activity and new therapeutics being developed as a result of innovation in science and drug development," she explains. "One of the best examples of this we have at the CRU is a new trial for patients with FSHD, but soon we will have others opening up for Muscular Dystrophy (MD), Oculopharyngeal MD, Spastic Paraplegia 4 (SPG4) and Autosomal Recessive Spastic Ataxia of Charlevoix-Saguenay (ARSACS)."
For patients with rare disease for which there is no available treatment, clinical trials offer the only chance to try a disease modifying therapy. Since many trials compare a new treatment to a placebo, patients who participate may not be getting the investigational drug. "During the first part of the trial, I saw no change; I kept saying 'I think I am on the placebo.' But last November, I was able to continue in the trial in the extension portion, where all patients are switched to the medication. I am in significantly less pain; I am not burnt out at the end of the day anymore; I can stand in the kitchen to cook or wash dishes," Cindy says.
Every Patient Counts
Louis-Vincent Côté also has FSHD. He is 24 years old and currently studying for a specialized diploma in accounting towards his CPA. Like Cindy, he is currently participating in an extended clinical trial, in which all patients are receiving the investigational drug while we await the trial results. This is his second clinical trial at the CRU.
"Living with a rare disease requires resourcefulness to find the resources and information necessary to better manage the disease. I was 16 when I was finally diagnosed with FSHD. It took several years to get there, despite extensive medical monitoring for leukemia diagnosed at age 3 and a half. The early symptoms of FSHD were attributed to consequences of my treatments. The doctors who followed me at the time had no idea that it could be a rare genetic disease," he explains.
Patients also mention how, in the rare disease community, every patient participating in research matters. "I joined the study with the goal of contributing to research; it is crucial that there are clinical studies to find treatments for rare diseases. It is important to educate as many healthcare professionals as possible about rare diseases in order to improve early diagnosis and the referral process to the appropriate specialists, including those doing clinical research. I also want to encourage pharmaceutical companies to take an interest in research into these diseases and our governments to facilitate access to innovative treatments," emphasizes Louis-Vincent.
Crowdsourcing a Diagnosis
Rare disease presents several challenges to clinical researchers and healthcare professionals due to their inherently small patient populations. At The Neuro, a group of physicians and researchers came up with a way to crowd-source neurological expertise, giving individual patients a better chance to get an accurate diagnosis.
The White Matter Rounds (named for the brain tissue) was developed a few years ago by Dr. Roberta La Piana along with Drs. Bernard Brais, Jack Antel and Donatella Tampieri. They bring together physicians from across North America and Europe to assess rare disease patients who do not fit the mold of diseases such as multiple sclerosis or cerebrovascular disorders. This is done with patients' consent and all their data and imaging is anonymized.
Originally focussed on cases in the McGill network, the scope has grown to include cases across Quebec, Canada and beyond. Taking place by video conference, about 25 to 30 clinicians and scientists attend the monthly rounds where patients have the opportunity to describe their disease to the group.
"I am convinced that, especially in the rare diseases field, patient's participation is crucial," says Dr. La Piana. "We gather more information by the patient's presentation than by simply reviewing a patient's chart. Sometimes we find even new details previously unnoticed. It benefits the clinicians and researchers too."
A Pan-Canadian Network
Collaboration is also the key to addressing the challenges posed by small patient groups when trying to find treatments. "I think there's a huge opportunity to really push forward the mandate of developing drugs for rare disease," explains Dr. Genge. "The Neuro is already a leader in clinical research and a Centre of Excellence for ALS. My vision is that The Neuro's CRU spearheads a Canadian network of sites that will lead clinical trials in rare disease."
This initiative, called ERADICATE (Excellence in RAre Neurological DIsease ClinicAl Trials Effort) is in the early stages of planning at the CRU. "By pooling our patients, this would give us enough critical mass and allow Canada to become the first stop for investigators, small bio-techs and large pharmaceutical companies when they want to develop new therapies,'' explains Dr. Genge.
And this would be welcome news to patients. "Rare disease gets lost in the shuffle among more prominent causes, like cancer and heart disease," says Cindy. "But those of us with rare disease don't have the luxury of time. Even though there are fewer of us, individually as patients, we are just as important."